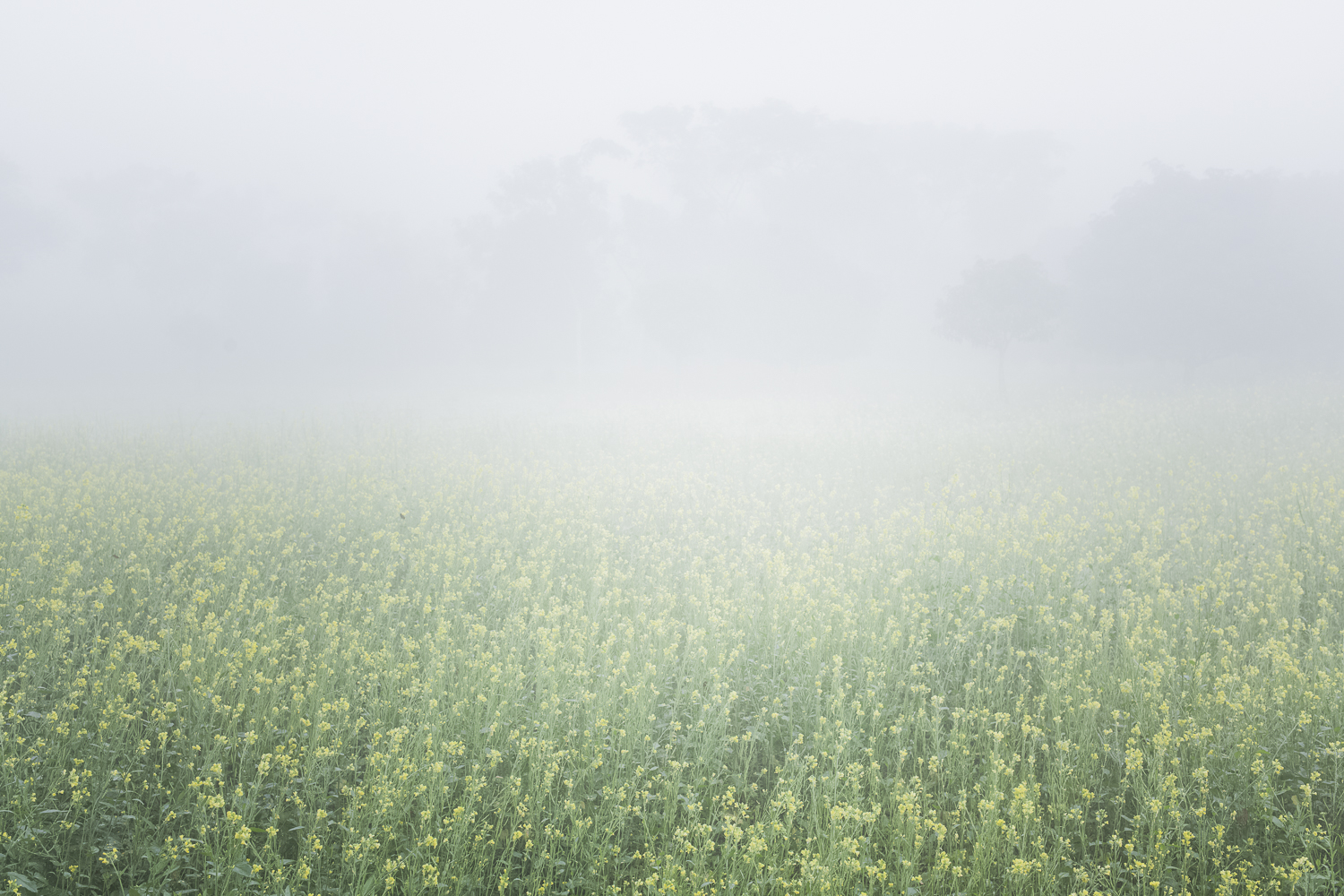 Of River and Lost Lands
2011 – 2020
'Of river and Lost lands' is a series of photographs, that depicts a grey, melancholic landscape of river Padma (Ganges) in Bangladesh.

At first, the place seems abandoned. Drowned and broken houses, floating trees are all that remains. These are traces of life that was once here. As the series continues, the land and the people come into view and find their place in the story. Together they portray a complex relationship between nature and human beings that is at once intimate and ruthless, defined by dependency and destruction. The river gives so much to its people and at times it takes away everything.

The days are overcast and filled with haze, creating timelessness in the atmosphere of these villages. Over the years the river has changed its course. When the monsoon arrives and the river runs fast. The lands get washed away and disappears. Riverbank erosion generally creates much more suffering than other natural hazards like flooding. While flooding routinely destroys crops and damages property, erosion results in loss of farm and homestead land.

Most places seen in these photographs does not exist any more. As a result, these photographs survive as visual documents of these vanished lands.
Monsoon River


Scenes from 'Monsoon watch', shown in Hamburg Triennial.
Single-channel video installation, 16:9, Duration: 07:30 Minutes
Sound: Synth and ambience.



Essay by Daniel Boetker-Smith


Of River and Lost Lands, which deals with the relationship between people and nature in Bangladesh, in the context of the devastating damage and loss of land caused each year during monsoon season.

Protick's photographs are all made along the powerful Padma River. "When the famous Ganges flows over the border from India into Bangladesh, it becomes the Padma; a river that many along its banks depend on for their livelihood, but paradoxically the river is also the main cause of destruction."

This extensive series is marked by a pale fog, and by isolated figures either coming to terms with what has passed or awaiting the next deluge. In Protick's lightness of touch, these places feel sacred and calm, the horizon disappears as the skies blend with the water, and in doing so the photographer creates a theatrical background for the characters.


These stories are not isolated to the Padma River; monsoon season affects the whole of the country, and with climate change, things are getting worse and more devastating each year. Rather than approach this subject matter attempting to quantify the loss, the images take us one step inside, as if we have awoken from the storm and are stumbling from place to place, assessing the damage, and watching people, as people do, returning to their immediate needs – washing, shaving, getting ready for school, tending to their cattle, and other tasks that can't wait.

Of River and Lost Lands also keenly mixes a grandeur of place with a consistent sprinkling of intimacy. In one photograph, a house sits partially submerged, while in another, a father rests a hand on his young son's shoulder as he assesses their crops. Protick tells me that this farmer is standing on relatively new land, because "as time passes, and the river washes away most of the places shown in these photographs, new pieces of land emerge from the river." The monsoon means loss, but also new beginnings.

Protick tenderly guides us through a story of complexity, history, culture, personal loss and relationships. The pale curtain of mist that envelops the players in Protick's story forms a backdrop for an intense melancholic experience. White, he says, is a colour of loss in Bangladesh, of mourning, sadness and purity.

As he was shooting this story, he was also completing a series on his grandparents, work that uses this same pale aesthetic, and it was also similarly a study of time passing, of disappearance, and an acceptance of this transience of existence. Protick offers no solution or tribute towards resolution, instead Of River and Lost Lands stands as a bleary-eyed poetic wander along crumbling river banks, where stories slip into the murky water and others bubble to the surface in an ancient to and fro.