Raśmi reinterpreted by writer Ieva Melagalve on Nork Magazine.


Yokohama Triennial 2020, curated by Raqs Media Collective has opened to public.

On view:
July 17 - October 11, 2020



'Raśmi' at Yokohama Museum of Art

'Love Kill' at Plot48
A luminous interval, a glowing anticipation, a lambent flow, a charged current of energy between thickets of presence and becoming
Raqs Media Collective
July 2020


The milieus that emerge with a Triennale are an invitation to a migration of concerns, hibernating or urgent, from distinct and diverse locations. They then stand re-aligned and re-drawn, suspended in co-presence. We commenced our own crossing, leading to this edition of the Yokohama Triennale, about two years ago, with questions about care, about care with toxicity, about care and friendship, about luminosity within friendship, and about cosmologies of luminance. We shared these sources, not only with the artists but also the world in Episōdo 00.
Meanwhile, in the course of a few months, a tiny virus, an un-living being, emerged, upending assumptions and assigning a task to the entire species. For the first time in human history we, all the billions from all parts of the world, have to undertake — in awareness of each other — the re-making of forms of life. It has brought to the foreground the necessity of re-apprehending the world.
We are now in the afterglow of an unfamiliar, viral, and partly unreadable time, and are without familiar protocols. Alone, and collectively, we have to navigate the oscillation of scales, quickened by the alteration in familiar rules. We are now immersed in a turbulent flow whose pressure rides through us all.

The Afterglow is also a site: it is this exhibition where you walk through deliberations with artists, activating an auto-didactic impulse for the sensing and making of the spectrum that arches from our inner to our cosmic worlds. Autodidacts learn and un-learn everything. If necessary, they need to become misfits in relation to all that is given and taken for granted, because when all the functions and instructions that are written into the manual for fixing a world can't be fixed, they must be altered.


The Afterglow is also an infrastructure of relationships, of precepts and affects, of an ability to see and narrate the world with patience and wonderment. This scaffolding helps us sense tremors and fault lines, breakdowns and breakthroughs in the pulsations of life. These capacities are necessary to access sources within us, which may sometimes be hidden in the reservoirs of our common life, of our connected and contiguous landscapes. They help script the forging of bonds, and of affinities and sororities, so as to change the rules of the game.


In the Sourcebook (2019) to Afterglow, we had shared an amazement, which we would like you to feel again:

"Life, the universe, the world, and the time of each day disintegrates and gets re-constituted through innumerable acts, incrementally rebuilding through luminous care. Broken minutes are mended in the afterglow of time's toxic debris.
Life is a luminous autodidact."

In this Afterglow, we welcome you.

Artists for Related Realities exhibition announced


The Backlight Photo Festival is one of the oldest and largest international photography festivals in Northern Europe. The 16th edition of the Backlight triennial is the most extensive ever and will be held at Tampere, Finland from September 4 to November 8, 2020.

The Backlight2020 artists and photographers will display photographic works, installations, augmented reality, virtual reality and multimedia projects that investigate and discover the connections between a multiplicity of our world's realities, using science, technology and art.

The main exhibition of Backlight2020 Related Realities will be in Gallery Himmelblau on September 4–October 25, 2020. The exhibition will ask: How do different realities relate – or not – to each other? If there are different realities, can we trust reality-as-truth? We received well over 600 applications in the open call for the Related Realities exhibition. Our international curatorial team – Arianne Koek (UK), Lars Willumeit (Switzerland), Maija Tammi (Finland) and Hannu Vanhanen (Finland) – selected 23 artists and we have now the great pleasure to announce the Related Realities artists for you.



John Angerson (England)
Marjolein Blom (Netherlands)
Guilherme Gerais (Brazil)
Chirag Jindal (New Zealand)
Karl Ketamo (Finland)
Sjoerd Knibbeler (Netherlands)
Karina-Sirkku Kurz (Finland)
Michel Le Belhomme (France)
Marie Lukasiewicz (France)
Sami Lukkarinen and Roope Mokka (Finland)
Andrei Nacu (Romania)
Sarker Protick (Bangladesh)
Andy Sewell (England)
Daniel Stier (Germany)
Sameer Tawde (India)
Carlos Trancoso (Portugal)
Miia-Mari Virtanen (Finland)
Saana Wang (Finland)
Timo Wright (Finland)
Sheung Yiu (Hong Kong)
Ksenia Yurkova (Russia)
Alba Zari (Italy -Thailand)


More information on the other Backlight2020 exhibitions will be available soon. The Space Works exhibition will take place September 12–November 8 at the Tampere Art Museum, Visual Catalysts September 25–October 18 at the Culture House Laikku, Bénédicte Vanderreydt's in Utero September 4–28 at the Gallery Nykyaika and Light in the Tunnel September 4–December 31 at the Ratina tunnel gallery. In addition to indoor and outdoor exhibitions, screenings and installations, the festival features lectures and seminars on photography, science and new technologies, as well as portfolio reviews.




Generation Z - Young Curators:
Tell me.

Eight personal stories about cultural identity
04 July - 20 September 2020Northern Lights Studio | Groningen




Installation Photo: Hanne van der Velde© 2020

The Young Curators show of the Noorderlicht International Photo Festival 2020 is curated by two artists: Sydney Rahimtoola (US, 1993) and Hanane El Ouardani (NL,1994), who took their own artistic positions as a starting point for the concept of 'Tell me,'. They both feel that the cultural climate of today is in desperate need of alternating voices and stories, in order to emphasize the importance of coexistence.

Globalization has made the cultural climate of today the most complex and layered sphere we have ever encountered; diverse in gender, sexuality, technology, race and ways of thinking. This leads many creative makers to reflect inward in their work, to get a grasp on their own cultural identity. This inherently gives the public a chance to understand the artist's position and an at the same time broaden their own horizon and perspective.





The eight artists in 'Tell me,' come from very different parts of the globe and represent different spectrums of cultural identity. What they share is their flair for storytelling, which is inclusive and reflective of their world. Sometimes the artist's stories clash, sometimes they complement each other. But that only conveys the richness and diversity of identity politics and highlights how this new generation of creative makers find ways for their narratives to coexist.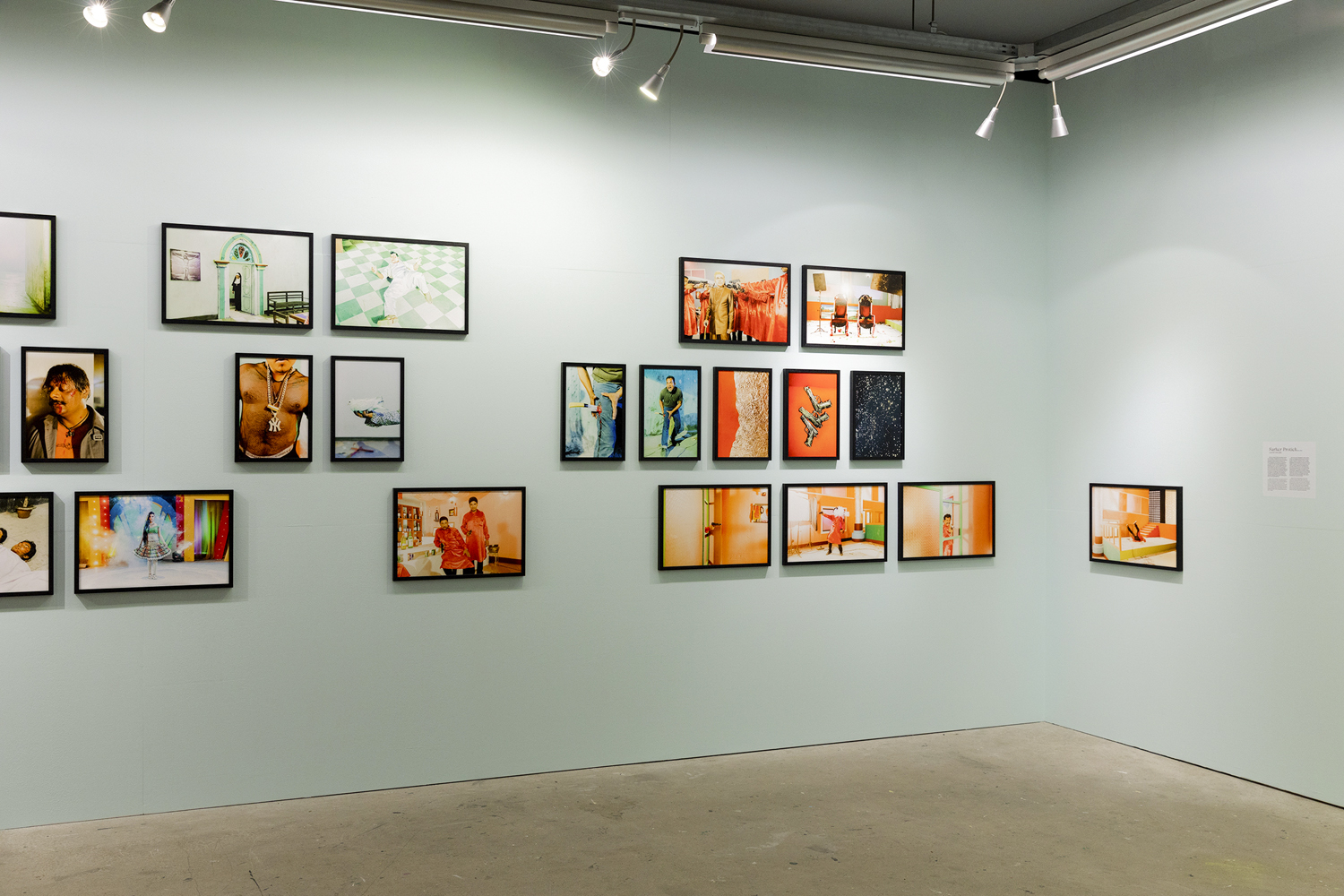 Bringing together these works in a group show creates a stage for the individual artists to inform each other and their audience. Not just about their personal and trans-historical stories, but also about the way in which they conduct research and convert these stories into visual art.
'Bleak House'
Curated by Brad Feuerhelm, published by Void.
featuring
Emel Abdipour • Hoda Afshar • Jörg Colberg • Robin Cracknell • Brad Feuerhelm • Matthew Genitempo • Katrin Koenning • Petra Kubisova • Roosmarijn Pallandt • Sarker Protick • Bryan Schutmaat • Wouter Van de Voorde



In curatorial terms, 'Bleak House' is a proposition based on a narrative device used in the chapterized Charles Dickens' novel of the same name from 1852-1853. Dickens' novel is a typical Victorian story of intrigue regarding the dynamics of English class structure and its hidden affairs. It is Dickensian in the most literal sense. The Bleak House proposed here within the pages of our similarly chapterized photography collection is altogether lacking in overt politicized drama. Instead, the proposition is regarding narration and how artists function under the idea of an oblique and omniscient author.

— Brad Feuerhelm




The Project
Bleak House (2020) is a project that Brad Feuerhelm and the Athenian publisher Void have embarked on in which having selected 12 artists, the focus of the "plot" simply revolves around the idea of producing art under the duress of our current crisis. Without naming the 2020 author directly, the focus of the works selected is to consider how artists respond to the challenges of producing work in an unprecedented time. The aim of which is to examine the moment, the retreat from normality and to reconsider how work is made under new conditions. The artists selected share some common elements in their work, but they have been left to their task with no restraint or larger mandate. It is a proposition in which their only concern is to produce images during the first half of 2020.



The Release
For the indeterminable future, the chapters/zines/books will be released as PDFs to the world for free. When it becomes possible to do so, the works will be printed, bound and catalogued in a limited edition box set available for purchase. In the meantime, we are offering the zines via PDFs for free as they are created.